It's Okay to Miss Your Loved One During the COVID-19 Outbreak (And How to Contact Them!)
COVID-19. Coronavirus. You can't scroll through social media for more than a minute without seeing something about the virus, whether it's a news article, a meme, an infograph – it's filling up all media right now (I mean, you're reading a blog about it!). It's ever-present in our lives and it's hard to remember a time when we weren't living like this, even though it was just a few weeks ago when all seemed well. Many of our residents are aware of the virus, since they've seen it on the news – and some even ask about it – but fortunately, life goes on as normal. There is no panic. Of course, Sensations Memory Care Residence has put COVID-19 policies in place – visitor restrictions, providing employees with masks, increased amount of handwashing, and more – but it still feels like life as we know it.
I know a lot of families are missing their loved ones. It's hard to go without seeing someone you are used to seeing all of the time. When the H1N1 epidemic happened in 2009, my family was unable to visit my great-grandma, who we made time to see every week. It was scary and there was so much uncertainty surrounding everything. When will we see our loved one again? Weeks? Months? There are a lot of questions we find ourselves asking and they produce a lot of worry. Avoiding anxiety is almost as difficult as finding toilet paper! (Too soon?)
The best way to think about this situation is to remember these safeguards are all about keeping our loved ones safe. It feels like a negative now, but once this passes – and it will – our loved ones will still be healthy and life will go on. We are doing our best to keep your family members safe and to have their lives resume as normally as possible. We are giving them EXTRA love through this period of time and keeping fearful thoughts at bay. We are grateful for the trust you have put in us to love and care for your family members. We will get through this together.
As always, we do have a phone available and are still accepting mail if you want to contact your loved one. Our address is 511 E. Shepherd, Charlotte MI 48813. Be sure to put the resident's name on the envelope so it gets to them! Our phone number is (517) 543-8101. The best times to call are weekdays from 9 p.m. – 5 p.m. when Administration is here. Again, thank you for being a part of our Sensational family. Stay healthy, everyone!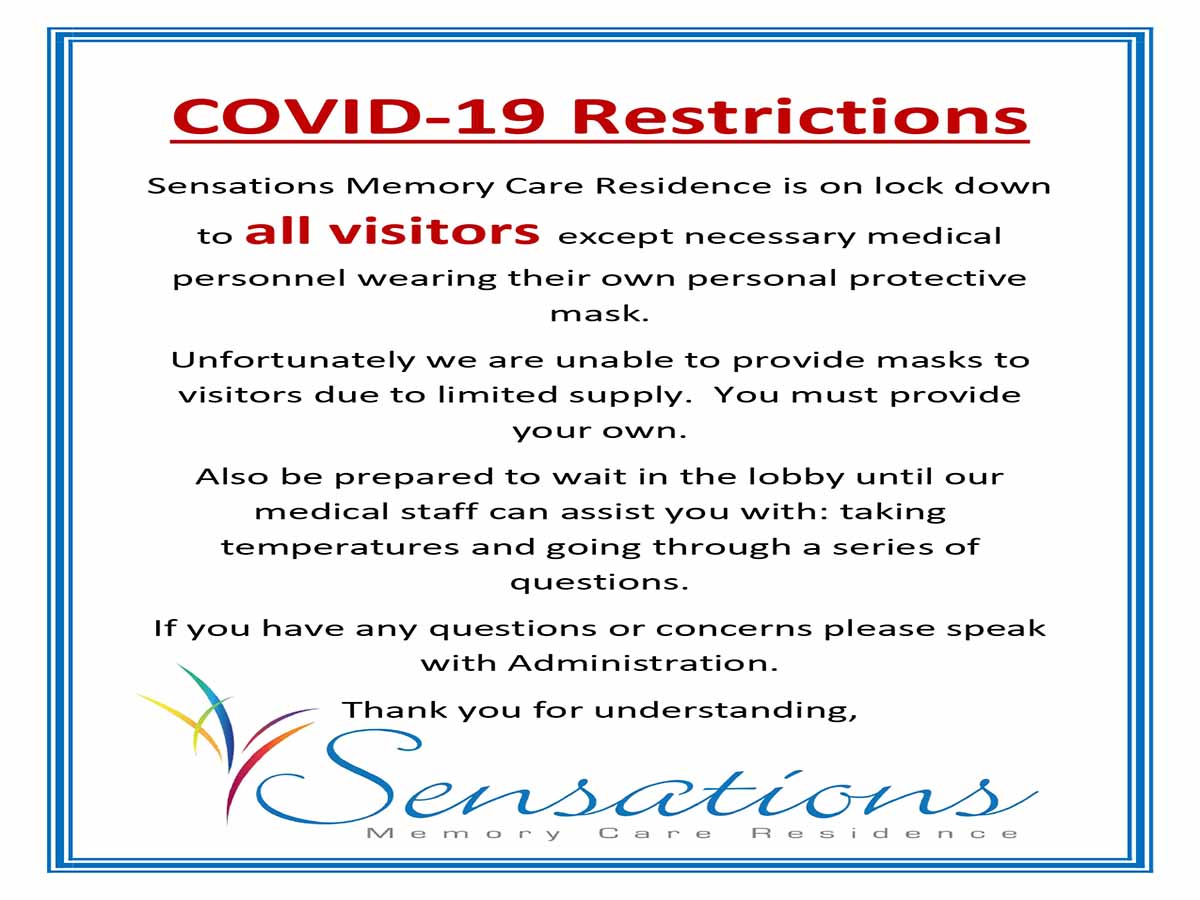 Sensations prides itself on being a safe facility that specializes in dementia and Alzheimer's disease. Each of Sensations' design elements ensures safety and security for our residents. If you have a loved one who has been diagnosed with dementia and are looking for information, please feel free to call us at (517) 543-8101 or stop in and see our beautiful facility. Our office hours are Monday-Friday from 9 a.m. – 5 p.m.